Stories
Tagged with Win8
---
Android tablets were a joke. I remember being at a MIX when the Xamarin guys (before Xamarin was Xamarin) were showing off Moonlight on Motorola Xoom tablets. I overheard them complain how bad the devices were compared to their iPad test machines. That was PN7 or Pre-Nexus 7. Sure the Kindle came first, but the real switch for Android tablets was the exceptional Nexus 7. They proved that the OS was usable and that a device was desirable. And they did it for $199. The Nexus 7 was a hit…very late into game. They knew that if they sold it at cost or better that people would learn to believe that Android was more than a haven for Linux-heads.
The problem with the Surface is that Microsoft wanted to make money on it. I know that's their business, but the Surface should have been the loss-leader that got the hardware community to build great tablets around Windows 8. But that didn't happen. Surface RT was $499 at launch (actually $399 but $499 was the right size one). $519 with a touch keyboard. This lined it up against a very successful product but it wasn't going to change any minds of people that already bought it.
Instead they should have taken a page from Google's playbook (not Blackberry's playbook…pun intended) and launched it for $299 and had an 8" version for $199 in the wings. Even with today's slashing of the new Asus 8" to $299 it is still too expensive (and not Windows RT).
---
I am working with a client on an enterprise Win8 app that is for order taking. They have a specific page that they require to be only in Portrait mode while the rest of the app can support any orientation. Since I've done so much Windows Phone 7/8 work I thought this would be simple. Just specify the value on the Page. But this didn't work…
Digging through the docs I found a probable solution: DisplayProperties.AutoRotationPreferences (in the Windows.Graphics.Display namespace). The docs specify that this property can be set with the DisplayOrientations enumeration to specify which of the four orientations to support. The enumeration is a flag so you can combine them too:
// All orientations
DisplayProperties.AutoRotationPreferences = DisplayOrientations.None;

// Portrait only
DisplayProperties.AutoRotationPreferences = DisplayOrientations.Portrait;

// Landscape only
DisplayProperties.AutoRotationPreferences = DisplayOrientations.Landscape;

// Landscape and upside down landscape only
DisplayProperties.AutoRotationPreferences = DisplayOrientations.Landscape | 
                                            DisplayOrientations.LandscapeFlipped;


Using these options should work, right? I tested it in a bunch of different places in my code and it didn't seem to have any effect. I was baffled.
---
I've created a new example of a PhoneGap app for my talk at the Atlanta Windows Apps meeting. The talk I did tonight didn't go all that well, but I got it working and the result is something you can download and see how to use a minimum of WinJS to build your Windows 8 apps.
The example PhoneGap app sourcecode can be found on GitHub:
Additionally, you can see the Win8 version by downloading the project I built during the talk:
---
I am headed to Build later this month and am excited by both the Surface tablet and what the PC makers are going to show us in Windows 8 devices. But ahead of that show there have been a lot of reveals by the likes of HP, Dell, Lenovo and ASUS.
I am perplexed by these early reveals by the PC makers. On the whole, these companies built Windows PC's in the Slate era (when Microsoft was pushing Windows Tablet Edition). Many of these new devices feel like throwbacks to the Pen Slates they built in years gone by and that's unfortunate. Even if they don't look like Slates, they look like ultrabooks with touch screens. Convertibles and such are interesting for the minority but not for the majority of users IMO.
We need to let the PC makers know that Slates are dead...they need to be building tablets...
---
A lot of people are writing about the possibility of a new era at Microsoft. As a cynical fanboy I am hoping that this turns out to be true. I think there are a lot of great things coming out of Redmond these days and they deserve credit for making real change.
If you're not keeping up, let's talk about some of the comments that are being talked about. First up, Woz:
Woz liking what is coming out with the Surface penlet (pen tablet) is very interesting. He's already on record liking the Windows Phone quite a bit. I think he may be on to something.
---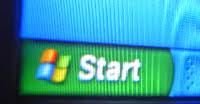 I'm using Windows 8 as my main OS on my work PC. Not a terribly good idea, but I want to feel how it is to work with on a day-by-day basis. I've been dong this since early in the Windows 2000 days (installing pre-release OSs by MS).
I've heard from some people that they want their Start Button back and my opinion continues to be that it never went away...all that happened was that it is now full screen. In fact, it's still in the lower left:
---
As many of my readers know, I've been neck deep in the Windows Phone. More recently, I've been digging into Windows 8 development as well. On my most recent trip, I spent quite a bit of time with the BUILD tablet. Good news is that it's a pretty good piece of hardware. Even though it's not ARM, I am still getting a good four hours of battery life. This version of Windows 8 is early but I do think there are some things that Windows 8 should learn from what they've done with the Windows Phone. Here is a short list of what I think the team should look at on the phone:
In-App Back Button
On the phone, the back button represents a major way to navigate in an application. In Windows 8, you can swipe back but that doesn't take you back to the last page in an application, it takes you to the last Metro-style app. I know you can swipe up to show the 'ApplicationBar' and it can have a back button, but I think this is a mistake. The phone learned that users want a single back button that works everywhere…it's more intuitive.
---
I decided at Build to try and not answer the question I was getting all the time:
I wanted to take time and not just spurt out my gut reactions. I wanted a thoughtful response to my week at BUILD. I've been watching videos, playing with the tablet and trying out the WinRT SDK and think it is time for me to chime in. Let's take this step by step.
---